In the field of digitization for civil security, numerous promising individual solutions have emerged over the past few years. Many individual solutions with
different operating concepts,
Media disruptions,
partially redundant data,
heterogeneous data formats or
without integration into existing systems
are, however, only of limited help in the case of use. Emergency forces from different organisations need fast, simple and targeted access to all relevant information in order to be able to offer the best possible help to citizens at all times. The combination of heterogeneous data sources also conceals valuable but unexploited potential.
The private Smart Home detects a critical state and notifies its owner or, in an emergency, the emergency services. The person flow measurement in the city centre detects a dangerous situation and automatically initiates countermeasures, e.g. the redirection of visitor flows or the priority switching for emergency forces at traffic light crossings. Drones provide additional information from the air for the situation picture and thus enables better decisions to be made. Information from social media completes the situation picture and makes it possible to spread important information for the population.
Goals
The aim of the project "Integrated Security Pilot Region" (INSPIRE), funded by the Digital Model Region East Westphalia-Lippe, is to integrate existing and new heterogeneous individual solutions (Smart Home/Building, person flow measurement, drones and social media) in the field of mission support for civil emergency response and thus to enable innovative applications for emergency forces and the population. A pilot project will be established in Paderborn that can be expanded and transferred to other regions.

Network
Networking of innovative technologies for civil emergency response
existing solutions
new developments
Examples: Drones, Smart Home/Building, Person flow measurement, SocialMedia

Open Source
Open interfaces
Use of free software
Provision of the central technical project results, e.g. INSPIRE.hub and INSPIRE.app as free software
Orientation towards formal and informal standards

Pilot Project
in Paderborn
practical demonstration of the project results
practical testing of the usability of the project results
e.g. at football matches, folk festivals, music festivals
Approach
The INSPIRE project runs from August 2019 to December 2022. In order to create an integrated solution for the application, INSPIRE develops an overall concept that consists of several subprojects and can be divided into three levels: the data level, the networking level and the application level. The project is supported by accompanying scientific research.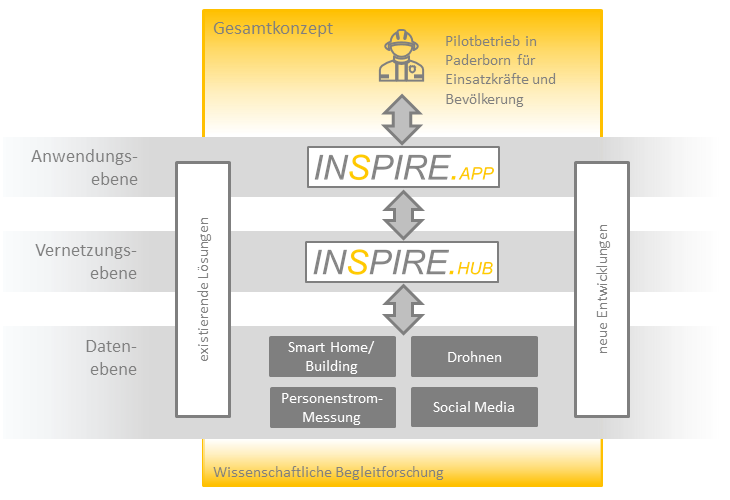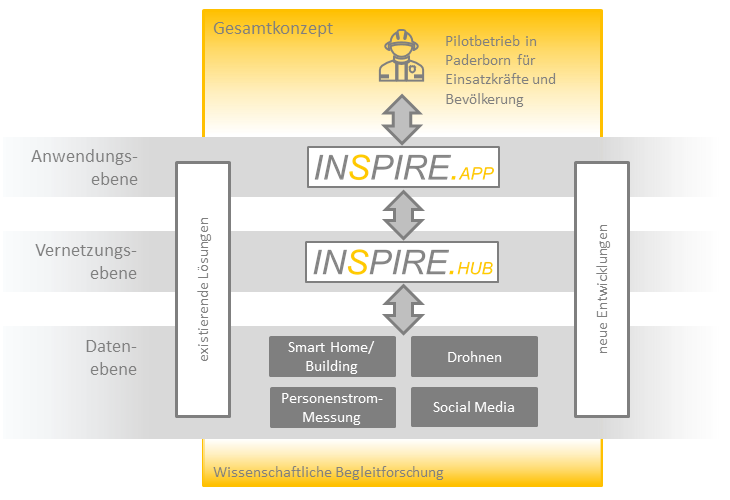 On the data level, the sub-projects Smart Home/Building, Personalstrom-Messung, Drohnen and Social Media serve as examples of innovative technologies. The networking level links these technologies with existing solutions and potential new developments. Incoming data is processed intelligently (e.g. early detection of danger, automatic initiation of reaction mechanisms). The technical component that demonstrates this is the INSPIRE.hub. At the application level, the aim is to provide mission-critical information for users in civil security. The technical component that demonstrates this is the INSPIRE.app.